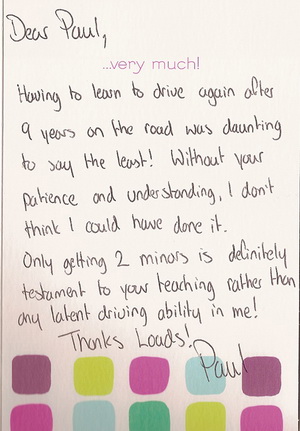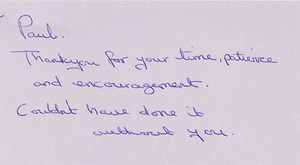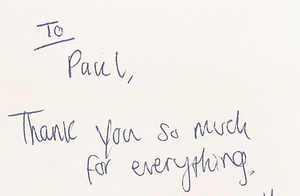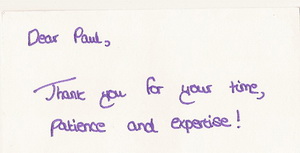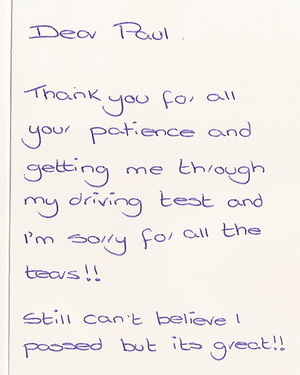 Pupil Comments

Steph
"Paul is friendly, reliable and fun, and a great instructor. He makes lessons pleasant and enjoyable. If you want a driving lesson to look forward to, choose Paul's Driving School!"

Katie
"Thank you so much for all your help, and thank you also for making it all so enjoyable!" Morwenna "On cloud nine, I've been driving around quite a bit now- Thanks for teaching me how."

Paul
"Having to learn to drive again after 9 years on the road was daunting to say the least! Without your patience and understanding, I don't think I could have done it. Only getting 2 minors is definitely testament to your teaching rather than any latent driving ability in me! Thanks loads!"

Dani
"Thank you for all your patience and getting me through my driving test and I'm sorry for all the tears!! Still can't believe I passed but its great!!"

Pauline
"At the age of 49, I passed first time thanks to my Brilliant driving instructor Paul Skillicorn, Really all I can say is "Dont be silly call Skilly" - best thing I ever did!"

Olivia
"Thank you for your time, patience and expertise!"

Imogen
"My driving licence came today! I want to thank you very much for teaching me"

Alex
"Excellent, Friendly, Funny, Relaxing tuition style"

Kate
"Paul, thank you for all your help, you were incredibly patient and thank you for being my instructor"

Alicia
"Paul is friendly, reliable and very patient. A great instructor who helped me pass first time"

Rachel
"A great driving instructor, with so much patience and expertise. Highly recommended"

Inez
"I really enjoyed having Paul as my teacher he makes lessons fun, Especially in those first few when its really quite scary!"

Joe
"I progressed quickly with good help and advice"

Hazel
"Thank you so much for your patience and help"

Frankie
"I really lacked confidence with driving but Paul was very good at providing reassurance and his calm and friendly approach to teaching soon put me at ease. I really would recommend Paul to any and everyone looking for a driving instructor"

Abbie
"Extremely patient and friendly instructor, helped settle my nerves and build my confidence. I passed first time with Paul and would highly recommend him to anyone"

Nick
"Paul is a great instructor who is both calm and patient; he makes lessons fun and enjoyable"

Kirstie
"Paul is a fun, friendly and fantastic instructor, he helped me to gain all the driving skills and confidence I needed to pass my test. I would highly recommend his driving services!"

Simon M
"Paul is a confident and patient instructor who I can recommend without hesitation."

Mandy
"After driving with several instructors, I finally found confidence and passed my test first time with Paul. I genuinely believe I couldn't have done it without him. He's calm, patient and all round a great instructor."

Amy S
"Thank you so much for all of your time and effort. I think your calming but encouraging method of teaching is very effective"

Ashley
"I never thought in a million years I would pass first time but thanks to Paul's great teaching and patience I did."

Rupert
"Paul is an excellent instructor, very patient and professional in his teaching. He is brilliant at quickly building up your confidence on the road. I would recommend Paul to anyone looking for a driving instructor."